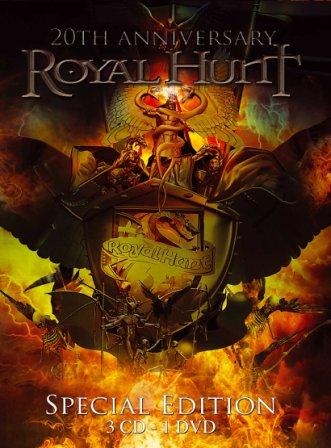 Frontiers Records is pleased to announce the release of ROYAL HUNT celebrative Box Set release entitled "20th Anniversary – Special Edition" on November 23rd in Europe and January 21st in North America.
                After the highly successful 20th anniversary tour in support of their latest album "Show Me How To Live", ROYAL HUNT celebrate the band's 20th Anniversary with this very special "Best of" package including 3 CDs and one DVD.
The release will include the best Royal Hunt songs from all 11 albums, a brand new song plus 3 newly recorded acoustic version of three additional songs and a DVD including all the promotional videoclips shot by the band during their long ride…
The tracklisting shows the incredible amount of amazing songs that the band wrote and performed during their long and successful career.
Disc 1:
Flight; Kingdom Dark; Stranded; Clown In The Mirror; Wasted Time; Epilogue; Time; Far Away; 1348; RiverOfPain; Tearing Down The World; Message To God.
Disc 2:
Cold City Lights;  Follow Me;  Surrender;  The Mission;  Can't Let Go;  Paper Blood;  Season's Change;  The First Of Rock;  Tears Of The Sun;  The Well; Shadowman; Hard Rain Is Coming; Half Past Loneliness.
Disc 3:
Save Me (new song) ; One by One (new recording, unplugged version) ; Bodyguard (new recording, unplugged version) ; Restless (new recording, unplugged version); Bad Luck; Double Conversion;  U-Turn; Sixth Sense; Day is Dawning.
Disc 4 DVD:
Videoclips for: Land of Broken Hearts, Day In Day Out, Clown in the Mirror, Far Away, Last Goodbye, Stay Down, River of Pain, Tearing Down the World, Martial Arts, Third Stage, Wasted Time, Interview, Message to God. 
Royal Hunt mastermind, writer and keyboard player Andre Andersen says: "To our fans, this will be a great journey through memory lane and for the new fans, a chance to poses a sample of the BEST there is to offer from the Royalty itself!  Enjoy!".
ROYAL HUNT
Andre Andersen – keyboards
DC Cooper – vocals
Allan Sorensen – drums
Andreas Passmark . bass
Jonas Larsen – guitars