SUFFOCATION – Despise The World European Tour 2013
New York death metal veterans, SUFFOCATION, have just confirmed European tour dates for 2013.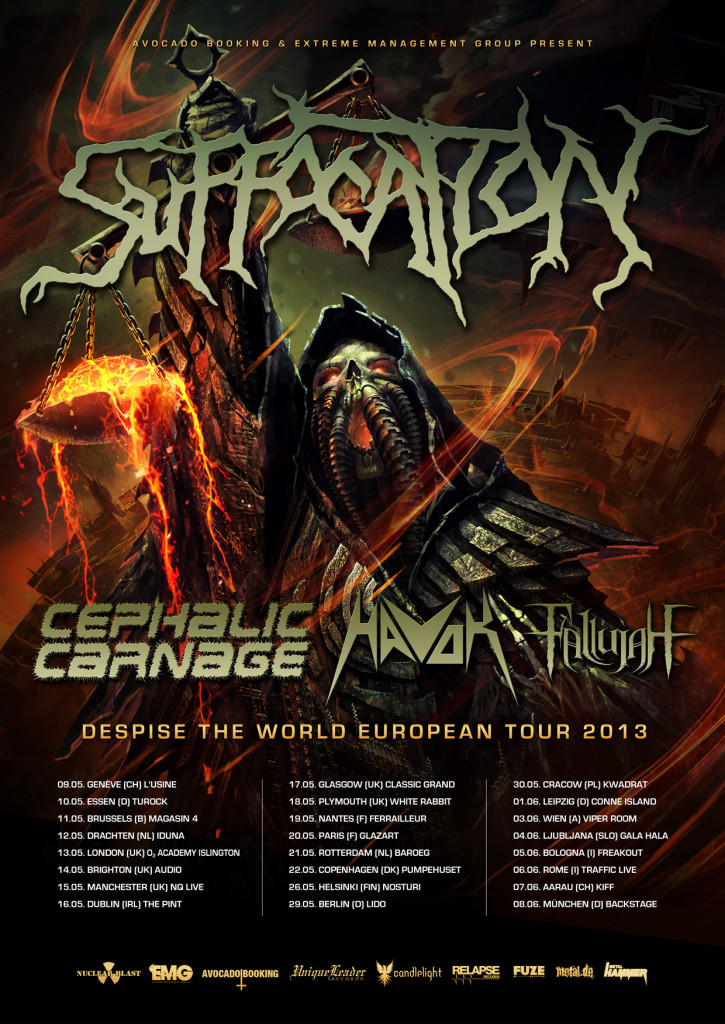 The band also have announced that John Gallagher of DYING FETUS will be filling in. Gallagher will be temporarily
taking the place of vocalist Frank Mullen due to his other personal commitments.
Frank Mullen commented:
"John Gallagher from DYING FETUS will be filling in for me on the European tour and I'm sure he will do an awesome job.
So please show your support for him and the band! See you soon Europe!"
"I'm stoked to be performing with longtime friends and my brothers in metal, SUFFOCATION," added Gallagher.
"It's going to be a blast and since I'll JUST be singing the vocals, they are going to be super sick and guttural.
So make sure to come out and party with us and witness the brutality!"

Despise The World European Tour 2013
SUFFOCATION
CEPHALIC CARNAGE
HAVOK
FALLUJAH
+ OPENER (soon to be announced)
presented by Metal Hammer Germany, Fuze, Metal.de
09.05.13 Switzerland Genève L'Usine
10.05.13 Germany Essen Turock
11.05.13 Belgium Brussels Magasin 4
12.05.13 Holland Drachten Poppodium Iduna
13.05.13 UK London O2 Academy Islington
14.05.13 UK Brighton Audio
15.05.13 UK Manchester NQ Live
16.05.13 Ireland Dublin The Pint
17.05.13 UK Glasgow Classic Grand
18.05.13 UK Plymouth White Rabbit
19.05.13 France Nantes Ferrailleur
20.05.13 France Paris Glazart
21.05.13 Holland Rotterdam Baroeg
22.05.13 Denmark Copenhagen Pumpehuset
26.05.13 Finland Helsinki Nosturi
29.05.13 Germany Berlin Lido
30.05.13 Poland Cracow Kwadrat
01.06.13 Germany Leipzig Conne Island
03.06.13 Austria Wien Viper Room
04.06.13 Slovenia Ljubljana Gala Hala
05.06.13 Italy Bologna Freakout
06.06.13 Italy Rome Traffic Live
07.06.13 Switzerland Aarau Kiff
08.06.13 Germany München Backstage
More dates to be determined (about 5 more).
www.facebook.com/Suffocation | www.nuclearblast.de/suffocation